RAL-K7 COLOUR FAN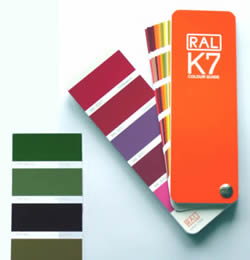 RAL-K7 COLOUR FAN
Product Information
Brand: RAL
Colour fan deck containing all 213 RAL CLASSIC colours


Fan deck size 5.0 x 15.0 cm.


Each colour 2 x 5 cm


5 RAL colour patches on each page


Gloss finish

Please note - Colour names are written in German with an English translation at the front.




The RAL CLASSIC Colour Collection with its 213 colours is indispensable in many areas.

Many products are internationally available in these colours. RAL Colours with four digit numbers will continue to be important for colour decision also in the future.

Related Products