40 fold mini microscope with illuminant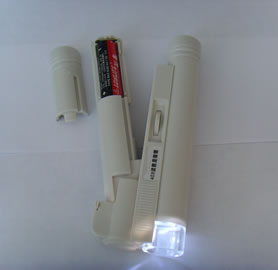 40 fold mini microscope with illuminant
Product Information
Brand: inteke
40 fold mini microscope with illuminant.

Specification:50×23×138mm
Model: KE-40X
1. focus adjustable, with self-supplied illuminant for lighting the observation field. Will not be influenced by environment lighting for using.
2. linear observation field 4.4mm, 40 fold. Clear and precise observation.
3. with blue/green color filter for adjusting color difference.
4. pocket type of small volume and light weight, easy for carrying.
5. when used for discs sound groove observation, audio frequency auxiliary equipment should be used together.

Related Products