INTEKE Color Matching Light Box/Color Matching Box CAC(6)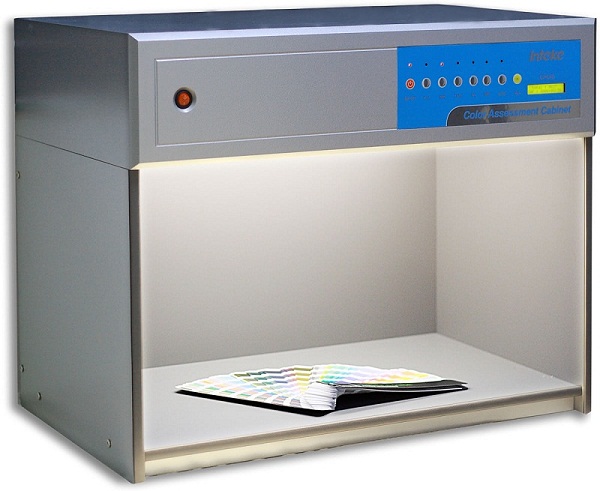 INTEKE Color Matching Light Box/Color Matching Box CAC(6)
Product Information
Brand: INTEKE
INTEKE Color Matching Light Box/Color Matching Box CAC(6)
CAC(6) (six light sources)
Brand: Inteke
Light sources:D65,TL84,CWF,U30, F,UV
Weight:35Kg
Dimensions:710 x 540 x 625 mm
Product info
| | | | | | | | | | |
| --- | --- | --- | --- | --- | --- | --- | --- | --- | --- |
| Order No. | Product Name | Model No. | D65 | TL84 | CWF | F | UV | U30 | Voltage |
| 101031 | color assessment cabinet (CAC) | CAC(6) (Six light sources) | 2 | 2 | 2 | 4 | 1 | 2 | 220V/50Hz |
| 101032 | color assessment cabinet (CAC) | CAC(6) (Six light sources) | 2 | 2 | 2 | 4 | 1 | 2 | 115V/60Hz |
Optional fittings: 45° normative stand
Features:
> Time running display of each light source.
> Automatically alternating among light sources; Different spectrum with same color.
> No need warm-up; No flicker; Color assessment quick and reliable.
> Low power-consumption; No heat emission; Efficient illumination.
> Small and convenient.
> Low price with high quality assurance.
Light source:
D65 --- International-standard Artificial Daylight
Color temperature:6500K Power:18W
TL84 --- Applicable to stores in Europe, Japan and China
Color temperature:4000K Power:18W
CWF (Cool White Fluorescent)
Color temperature:4200K Power:18W
F/A-light --- Comparison referential light source, Applicable to family/hotel
Color temperature:2700K Power:40W
UV --- Ultraviolet light source Wavelength:365nm Power:18W
U30/TL83--- (Warm White Fluorescent)
Color temperature:3000K Power:18W
Related Products